Instructor Bios
Sudha Govindan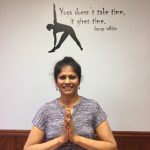 Hello, my name is Sudha Govindan. Born and raised until early adulthood in India, I've been around yoga all my life. I've been teaching Yoga since 2009. Also, I have been certified to teach teacher-trainees. The benefits of yoga are endless and one has to practice it to see what it is all about. For me, the more I practice, the more I want to do it.
Also, I feel that there is no other exercise that brings so much awareness to the mind and body. Each time I see students leave the class feeling happy, calm and stress-free, I crave to teach it more. Please come, join me, and see for yourself what this ancient practice is all about.
Mita Nag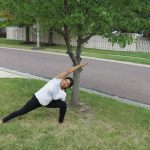 Hello, I'm Mita Nag. Yoga has been a part of my life for more than 10 years and my practice has not only helped me to get better physically, but mentally as well. I was suffering from severe back pain when I had my first child. A few years later, when I went to India to visit my parents, my dad enrolled me in a yoga school. I practiced yoga regularly for three months with a combination of poses and breath. When I came back, I noticed that my back pain was gone. This motivated me to become a yoga instructor.
Through compassionate teaching, I can share my knowledge with others to live a healthy and a more meaningful life. I realized that yoga not only makes our bodies strong and flexible, but it also brings emotional stability, clarity of mind, and increased spiritual awareness. I have my 500hr RYT from Yoga School of Therapeutics, I am registered with Yoga Alliance and have attended workshops from the great masters: Paula Self Tortolano, Aadil Palkhivala and Doug Keller. I thank all of the great masters who have enriched my yoga study.
Stacy Plamondon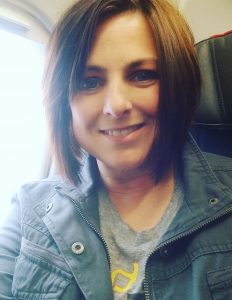 I have practiced yoga for over 18 years and have taught for seven years. I am a 500-hour certified yoga teacher and have taught well over 2,000 hours of classes. I have experience teaching all ages and levels.
My background is in education and fitness but my passion was always yoga. I love teaching it and drawing on my own experiences with fibromyalgia, chronic pain and multiple surgeries to help others who are going through similar experiences. I can make yoga attainable for anyone that desires despite any limitations. You do not have to be able to stand, be on your knees or put pressure on your wrists and hands to come to my class. I would love to be part of your journey. Hope to see you in class.